16" Valor Series Milwaukee Battery PPV
YOUR MILWAUKEE ARSENAL JUST GREW

Compact. Lightweight. And reliable. Introducing the all-new Super Vac 16" variable-speed battery fan. This PPV works with Milwaukee Red Lithium 18V batteries,
making it the most compatible PPV interface on the market. This nimble fan weighs only 42 lbs. and is 22.75" tall x 23.50" wide x 12" deep, turning this fan
into the industry's lightweight champ.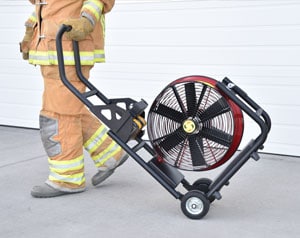 1. Curved Handle: Folds into the frame for compact storage; curved design provides higher grip for better ergonomics.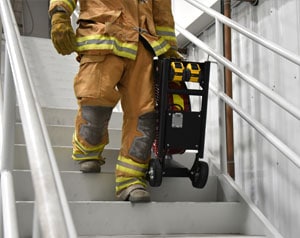 2. Compact, Roll-Cage Frame: Features one of the most compact, lightweight designs among battery PPVs with its aluminum frame.

3. Stream Shaper Guard: Allows for flexible setback; Air Cone Guard is available by request

4. Polymer Blade: Minimizes weight; Super Vac's single-piece cast aluminum blade is available by request

5. Optional Shore Power: 120-240V AC operation is available upon request.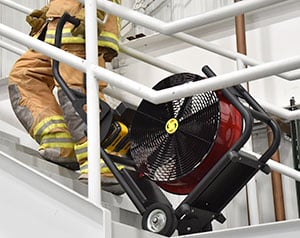 6. Standard Flat-Proof Rubber Tires: Highly maneuverable, and all without lifting the fan; easy to deploy by the smallest firefighters.
*Weight is without shore power.
180 DEGREES OF SEPARATION
At Super Vac, we have all the angles of attack covered — and then some. You won't find another battery fan that offers 180 degrees of tilt like the ever-versatile V18-BL. Just this one feature truly sets this battery fan apart from the others.
5-YEAR WARRANTY ON BATTERY FAN COMPONENTS
3-YEAR WARRANTY ON MOTOR/BATTERY